The Master of Science in digital forensics and cyber investigation at University of Maryland Global Campus is designed to prepare you to meet the growing demand for investigative, leadership, and executive skill in evaluating and managing complex cybersecurity incidents and threats. Learn how to determine whether a digital system has been attacked or compromised, and master reliable methods to identify, preserve, analyze, and present evidence for legal prosecution, administrative proceedings, and business purposes.
In this program, you can develop investigative problem-solving skills, contribute to important team deliverables, analyze complex data scenarios, examine digital media for evidentiary artifacts, and write detailed digital forensic examination reports. The applied knowledge and skills you acquire can help government, business, and law enforcement organizations in detecting data breaches, mitigating cyber attacks, identifying responsible parties, and evaluating evidence of digital crime.
UMGC was named a National Center of Academic Excellence in Cyber Defense Education by the National Security Agency and the Department of Homeland Security.
These requirements are for students who enroll in the 2020–2021 academic year. For prior year academic requirements, visit our catalog archive.
About the Digital Forensics and Cyber Investigation Master's Degree
Our curriculum is designed with input from employers, industry experts, and scholars. You'll learn theories combined with real-world applications and practical skills you can apply on the job right away.
What You'll Learn
Through your coursework, you will learn how to
Design procedures at a suspected crime scene to ensure that the digital evidence obtained is not corrupted
Conduct hands-on forensic searches to identify intrusion methods
Employ rigorous procedures to enable forensic results that can withstand scrutiny in a court of law
Explain the operation of digital components
Seize, image, deconstruct, and analyze digital media for evidence
Prepare professional reports
Present digital forensics results in a court of law as an expert witness
Coursework Examples
In past projects, students have had the opportunity to
Create an investigation plan for a digital forensics incident
Conduct a mobile incident response and investigation based on a classroom scenario
Use appropriate tools and procedures to check for the use of anti-forensics techniques
Conduct a Linux/Windows/Mac machine image investigation using industry-standard tools
Identify malicious software, network activity, suspect traffic, and intrusion artifacts through a review and analysis of artifacts
Conduct a digital forensic investigation in a challenging environment
Industry Certification
This program can help prepare you for the following certification exam(s):
Digital Forensics and Cyber Investigation Master's Degree Requirements
Our curriculum is designed with input from employers, industry experts, and scholars. You'll learn theories combined with real-world applications and practical skills you can apply on the job right away.
Master's Courses
Introductory Course
Core Courses
DFC 610
DFC 620
DFC 630
DFC 640
CYB 670
Core Rules & Recommendations
All courses must be taken in the order listed. 
You must complete each course with a grade of B or better to advance to the next course. The grade of C is not available for these courses. 
The courses in this program will have seven-day and 60-day options for the grade of Incomplete.
Vertical Pathway
If you completed your undergraduate degree at UMGC with a major in computer networks and cybersecurity, a vertical pathway between UMGC's graduate and undergraduate degree programs in that field allows you to reduce your total coursework for this program by up to 6 credits.
Other Requirements
You must maintain a GPA of 3.0 or higher at all times.
All degree requirements must be fulfilled within five consecutive years.
Any transfer credits must have been earned within the five-year time frame to be applied toward a graduate degree.
Please review our overview of overall master's degree requirements for additional considerations.
Career Preparation
This program is designed to help prepare you for work in government organizations, the private sector, and law enforcement agencies in the areas of computer and digital crime.
Experience Recommended for Success in the Program
We recommend a background in computing and programming. If you need to improve your computing skills, we recommend you take ASC 605. If you have not taken programming courses, we recommend you take ASC 609. We recommend ASC 601 if you'd like to improve your graduate writing skills.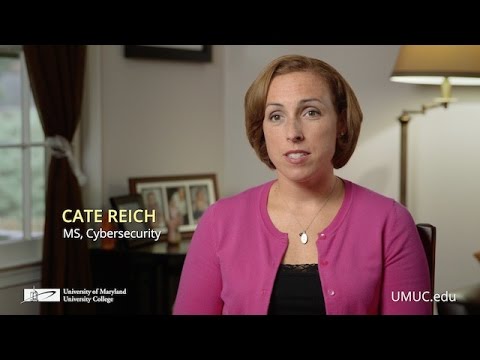 Find out how UMGC made the difference for Cate Reich and her family.