Prepare for the future by developing the next generation of advanced cyber threat prevention skills in this nationally recognized program.
Cybersecurity technology underpins the success of organizations and national critical infrastructures. Modern executives need to be able to use that technology, as well as people and policy, to minimize risks while ensuring success for their organizations. They also need to balance risks and opportunities holistically through an interdisciplinary lens. This innovative graduate program offers that wide perspective, providing a blend of people, policy, and technology skills to prepare the modern digital strategists that organizations need.
About the Cybersecurity Technology Master's Degree
The cybersecurity technology curriculum features emerging topics and projects that develop the skills and knowledge employers are seeking. It also provides the opportunity to interact with employers through conferences and recruitment and networking events. In your courses, you will also have access to a state-of-the-art technology lab to strengthen your practical understanding of the concepts discussed. Faculty with experience in the field serve as coaches throughout your courses. Additionally, a board of industry leaders and employers advises our faculty to make sure our cybersecurity programs are covering emerging areas that are relevant to your career growth.
What You'll Learn
Through your coursework, you will learn how to
Tailor digital strategies to the mission of an organization
Understand how to balance the use of people, policy, and technology
Understand how to analyze, think critically, and improve perpetually
Be a cybersecurity technology leader in the modern world
Develop a cybersecurity technology strategy for an organization
Build cybersecurity technology environments and operations
Develop resilient and highly fault-tolerant technology environments
Enable organizations to make better business decisions through reliable data analytics and intelligence
Perform proactive business risk management and solve problems
Develop strategies for mobile, cloud, and emerging environments such as the Internet of Things
Coursework Examples
In past projects, students have had the opportunity to
Use protocol analyzers, intrusion detection systems, intrusion prevention systems, network mapping tools, network scanning tools, encryption/decryption tools, digital forensics tools, and password exploitation tools
Perform ethical hacking and vulnerability assessments
Industry Certification
This program can help prepare you for the following certification exam(s):
Cybersecurity Technology Master's Degree Requirements
Our curriculum is designed with input from employers, industry experts, and scholars. You'll learn theories combined with real-world applications and practical skills you can apply on the job right away.
Master's Courses
Criteria for Program Progression
You must complete each course with a grade of B or better to advance to the next course. The grade of C is not available for these courses. Your course syllabus will explain options for and consequences of requesting an Incomplete.
Core Courses
CBR 600
CST 610
CST 620
CST 630
CST 640
CYB 670
Core Rules & Recommendations
You may transfer exactly 6 credits toward this program if you earned those credits at an approved institution and the course content is equivalent to the introductory course. Fill out a 
Graduate Transfer Credit Evaluation
 to find out if your credits may transfer.
Other Requirements
You must complete each course with a grade of B or better to advance to the next course. The grade of C is not available for these courses. Your course syllabus will explain options for and consequences of requesting an Incomplete.
Career Preparation
This program is designed to help prepare you to develop mission-focused digital strategies for organizations. Potential career fields include cybersecurity and technology architecture, information security, cybersecurity analysis and engineering, board advising, and cybersecurity consulting.
Experience Recommended for Success in the Program
You are expected to have a strong understanding of information technology, computer networks, databases, and the internet. This background may be acquired through noncredit preparatory coursework.
If you do not have such IT knowledge or experience, you are strongly advised to take the noncredit course ASC 605 first. Taking ASC 601 is recommended to help improve writing skills.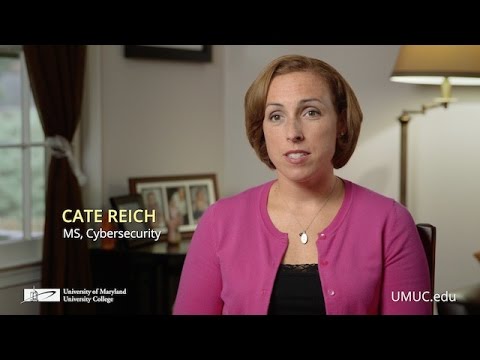 Find out how UMGC made the difference for Cate Reich and her family.
Program Accreditation
Cybersecurity Program Recognition
UMGC has been designated as a National Center of Academic Excellence in Information Assurance and Cyber Defense Education by the National Security Agency and the Department of Homeland Security and as a National Center of Digital Forensics Academic Excellence by the Defense Cyber Crime Center Academic Cyber Curriculum Alliance.