The graduate program in cyber operations is an interdisciplinary technical program designed to provide the knowledge, skills, and abilities required to successfully perform critical cyber operations tasks.
Based on the content and curriculum recommendations by the National Centers of Academic Excellence in Cyber Operations (CAE-CO), the program responds to a growing national need, driven by increasing threats of global cyberwarfare, for cyber professionals with advanced training in both defensive cybersecurity and offensive cyber actions.
The program features the technologies, techniques, and exercises that help government, military, and law enforcement organizations to conduct collection, exploitation, and analysis, as well as respond to cyber events to enhance the security of our nation, in hands-on labs, projects, and exercises.
UMGC was named a National Center of Academic Excellence in Cyber Defense Education by the National Security Agency and the Department of Homeland Security.
These requirements are for students who enroll in the 2020–2021 academic year. For prior year academic requirements, visit our catalog archive.
About the Cyber Operations Master's Degree
Our curriculum is designed with input from employers, industry experts, and scholars. You'll learn theories combined with real-world applications and practical skills you can apply on the job right away.
What You'll Learn
Through your coursework, you will learn how to
Design systems that are based on security design principles and employ multiple layers of protection to meet mission security goals
Perform risk assessment to identify risk to an organization and facilitate appropriate responses
Develop appropriate cryptographic solutions for a given enterprise architecture scenario
Protect networks, hosts, and applications using intrusion detection and prevention systems (IDPS)
Mitigate vulnerabilities in the components that make up a system
Use virtualization to create multiple simulated environments from a single hardware system to reduce IT expenses
Migrate an existing workload to a secure, scalable cloud environment
Perform a forensics analysis on artifacts associated with a cyber incident
Write high-quality, defect-free software code
Perform reverse engineering on software (or malware) of potentially unknown origin to understand functionality, intent, and constraints of the code
Explain processes, laws and issues associated with conducting cyber operations
Assume the roles of an adversary and defender in a cyber operations attack scenario to identify and prevent cyber intrusion activities safely, ethically and within the scope of applicable laws
Coursework Examples
In past projects, students have had the opportunity to
Develop cryptographically sound solutions to support highly secure inter-enterprise communication and eCommerce
Select and analyze security controls in an enterprise setting using defense-in-depth approaches to minimize risk
Investigate digital artifacts for the presence of malware and malicious code
Apply static and dynamic analysis tools and techniques to detect and debug software defects that could lead to security vulnerabilities
Conduct and supervise cyber offense campaigns and practice skills associated with the cyber threat kill chain in a safe laboratory environment
Cyber Operations Master's Degree Requirements
Our curriculum is designed with input from employers, industry experts, and scholars. You'll learn theories combined with real-world applications and practical skills you can apply on the job right away.
Master's Courses
Introductory Course
Core Courses
COP 610
COP 620
COP 630
COP 640
COP 670
Core Rules & Recommendations
All courses must be taken in the order listed. 
You must complete each course with a grade of B or better to advance to the next course. The grade of C is not available for these courses. 
The courses in this program will have seven-day and 60-day options for the grade of Incomplete.
Vertical Pathway
If you completed your undergraduate degree at UMGC with a major in computer networks and cybersecurity, a vertical pathway between UMGC's graduate and undergraduate degree programs in that field allows you to reduce your total coursework for this program by up to 6 credits.
Other Requirements
You must maintain a GPA of 3.0 or higher at all times.
All degree requirements must be fulfilled within five consecutive years.
Any transfer credits must have been earned within the five-year time frame to be applied toward a graduate degree.
Please review our overview of overall master's degree requirements for additional considerations.
Career Preparation
This program is designed to help you prepare for a career as a cyber defense analyst, forensics analyst, incident responder; cyber operator; or secure software assessor.
Experience Recommended for Success in the Program
Ideally, you should have recently completed an undergraduate degree in computer science or a related discipline. You are expected to be familiar with cybersecurity and computer science concepts and be comfortable developing code in at least one programming language. Experience performing cybersecurity tasks in a work environment would enhance the learning experience.
If you do not have work experience in information technology, computer networks, or cybersecurity, you are advised to take ASC 605 first. If you have not taken programming courses previously, you are strongly encouraged to take ASC 609. Taking ASC 601 is recommended to improve your graduate writing skills.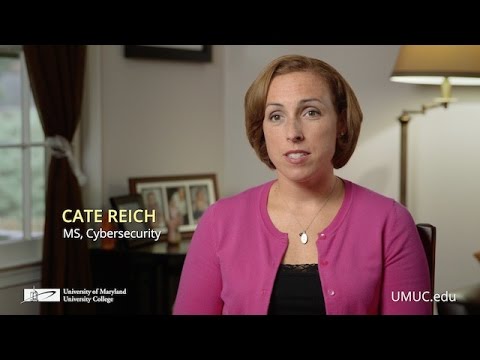 Find out how UMGC made the difference for Cate Reich and her family.
Additional Information
Technology Requirements
The cyber operations program requires that you use a computer with the following:
Microphone and speakers or headset with microphone or equivalent device(s)
5 GB (gigabytes) of free hard drive space
4 GB RAM or higher o A high-speed internet connection
Computer processor (Intel Pentium 4 or AMD Athlon 64) running at speeds of at least 1 GHz
Windows 8.1 or Mac OS X 10.6 or higher for an operating system (Linux operating systems can also be used but require more technical knowledge from the user.)
Note: The higher the processor speed of your computer (e.g., 2.4–3.4 GHz), the larger the amount of available memory (e.g., 4–12 GB), and the larger the amount of available hard drive space (e.g., 5–20 GB), the better your computer will perform and the smoother your experience will be.