The Master of Science in Cloud Computing Architecture at University of Maryland Global Campus is designed to equip you with the technical and management skills to effectively design, operate, and maintain cloud computing systems and help organizations transition to cloud-based solutions. You will learn to strategically transform an organization's current infrastructure to one that efficiently delivers valuable services via the cloud.
Through a broad understanding of cloud technology and its relationship to business processes, including financial management, procurement, and communications, you'll be able to design effective cloud environments—and ultimately become a strong asset in any organization.
UMGC was named a National Center of Academic Excellence in Cyber Defense Education by the National Security Agency and the Department of Homeland Security.
These requirements are for students who enroll in the 2020–2021 academic year. For prior year academic requirements, visit our catalog archive.
About the Cloud Computing Architecture Master's Degree
What You'll Learn
Through your coursework, you will learn how to
Explain cloud computing concepts and applicable benefits to business stakeholders
Evaluate and assess the impact of cloud computing on service management
Design effective cloud computing solutions that take into account an organization's structure, communications, and operational business processes, as well as financial management and cost model implications
Manage the process of migrating and transitioning to a cloud environment
Implement cloud computing architecture solutions that address cloud security and compliance fundamentals, deployment automation and elastic sizing of environments, and multi-tenant implications
Coursework Examples
In past projects, students have had the opportunity to
Analyze the strengths and weaknesses of legacy IT systems and evaluate the value of transitioning to the cloud
Determine the business requirements of an organization to guide the planning for a new cloud-based infrastructure
Assess the capabilities of contractors and their services in the cloud ecosystem
Design a new cloud-based network architecture for an organization
Create and execute a project management plan to transition from the legacy system to the cloud-based system
Manage the cloud-based system to keep it secure and operating at optimal capacity
Cloud Computing Architecture Master's Degree Requirements
Our curriculum is designed with input from employers, industry experts, and scholars. You'll learn theories combined with real-world applications and practical skills you can apply on the job right away.
Master's Courses
Introductory Course
Core Courses
CCA 610
CCA 625
CCA 630
CCA 640
CCA 670
Core Rules & Recommendations
All courses must be taken in the order listed. 
You must complete each course with a grade of B or better to advance to the next course. The grade of C is not available for these courses. 
The courses in this program will have seven-day and 60-day options for the grade of Incomplete.
Vertical Pathway
If you completed your undergraduate degree at UMGC with a major in computer networks and cybersecurity, a vertical pathway between UMGC's graduate and undergraduate degree programs in that field allows you to reduce your total coursework for this program by up to 6 credits.
Other Requirements
You must maintain a GPA of 3.0 or higher at all times.
All degree requirements must be fulfilled within five consecutive years.
Any transfer credits must have been earned within the five-year time frame to be applied toward a graduate degree.
Please review our overview of overall master's degree requirements for additional considerations.
Career Preparation
This program is designed to help prepare you for positions in cloud computing, computer network architecture, network and computer systems administration, information technology project management, and computer systems analysis.
Experience Recommended for Success in the Program
We recommend academic and/or professional experience in information technology. If you need to improve your computing skills, we recommend you take Basic Information Technology (0 Credits, ASC 605) before beginning this program. We recommend Graduate Writing Skills (0 Credits, ASC 601) if you'd like to improve your graduate writing skills.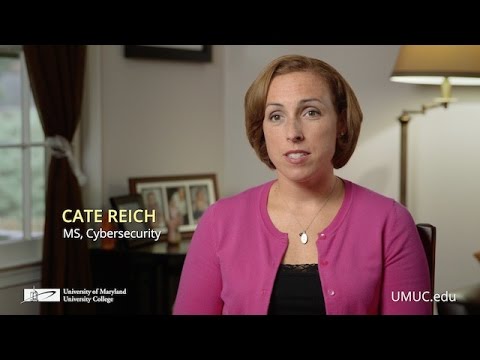 Find out how UMGC made the difference for Cate Reich and her family.