Versatility, stability, earning potential: Gain entrance to a variety of possibilities with a bachelor's degree in accounting.
If you have a way with numbers, you may want to consider earning your bachelor's degree in accounting. No matter what their mission or type of work is, all companies and agencies need accounting departments to keep their finances on track, so with an accounting degree, you'll have a wide range of directions to choose from.
This major combines theory and practice to help prepare you for analysis of and reporting on the economic activities of organizations. You'll develop skills in managerial accounting, budgeting, accounting systems, internal controls, financial analysis, financial reporting, internal and external auditing, taxation, and international accounting.
This program is also available as a minor.
About the Accounting Bachelor's Degree
The accounting curriculum, developed in consultation with employers, features real-world data sets. Accounting employers often serve as guest speakers and contact UMUC to recruit our students. You'll take courses in statistics, economics, cost accounting, income taxation, business law, and auditing. The required minor in business administration complements your accounting coursework with study of management theory, finance, and ethics.
What You'll Learn
Through your coursework, you will learn how to
Communicate with financial and nonfinancial audiences in a clear and concise manner and make appropriate financial decisions
Research, prepare, analyze, and review financial and business data by applying accounting and business management principles to produce financial and business reports
Use current technology and analytical tools to work collaboratively and facilitate decision making
Employ analysis, critical thinking, and problem solving to identify, test, and validate processes, systems, and financial data
Define, develop, and demonstrate ethical business practices and accountability by identifying and addressing current and emerging issues
Conduct fraud detection and deterrence planning, analysis, and communication
Perform a range of functions, including auditing and financial reporting, to manage finances for federal agencies
Create reports and conduct disclosure analysis
Coursework Examples
In past projects, students have had the opportunity to
Relate accounting concepts to actual companies and agencies
Analyze the U.S. Securities and Exchange Commission Form 10-K, which companies use to disclose information
Review and analyze publicly traded companies and examine federal financial statements, operation reviews, RFPs, and reports related to fraud and ethics
Review and analyze corporate governance and ethical issues to ensure understanding of and compliance with license and government regulations
Industry Certification
This program can help prepare you for the following certification exam(s):
Accounting Bachelor's Degree Requirements
Our curriculum is designed with input from employers, industry experts, and scholars. You'll learn theories combined with real-world applications and practical skills you can apply on the job right away.
Courses in the Major
ACCT 326
ACCT 220
ACCT 221
ACCT 310
ACCT 311
ACCT 321
ACCT 323
ACCT 410
or any upper-level ACCT course
ACCT 422
ACCT 424
ACCT 436
or any upper-level ACCT course
ACCT 438
or any upper-level ACCT course
The following additional related requirements for the major are listed under general education courses.
ECON 201
ECON 203
STAT 200
WRTG 293
or COMM 390 or WRTG 394
Degree Focus
Choose from one of these recommended groups of classes or mix and match to align with your career goals and interests.
Related Required Courses Focus
BMGT 364
BMGT 380
FINC 330
MRKT 310
ACCT 411
or BMGT 496
Electives Focus
The bachelor's degree in accounting requires 28 credits in minor and/or elective coursework.
General Education Requirements
Since some recommended courses fulfill more than one requirement, substituting courses for those listed may require you to take additional courses to meet degree requirements. Consult an advisor whenever taking advantage of other options. See information on alternate courses (where allowable) to fulfill general education requirements (in communications, arts and humanities, behavioral and social sciences, biological and physical sciences, mathematics, and interdisciplinary issues).
Research and Computer Literacy Courses
PACE 111M
or PACE 111B
or other PACE 111 course
(to be taken in first 6 credits)
LIBS 150
or CAPL 398A
or other general education elective
IFSM 201
or another computing course appropriate to the academic major
Communications Courses
WRTG 111
or WRTG 291 
or other writing course
WRTG 112
WRTG 293
or COMM 390
or WRTG 394 (related requirement for the major)
WRTG 394
or other advanced upper-level writing course
Math Course
STAT 200 (related requirement for the major)
Arts and Humanities Courses
HIST 142
or HIST 157
or other arts and humanities course
ARTH 204
or foreign language course or other arts and humanities course
Behavioral and Social Science Courses
ECON 201 (related requirement for the major)
ECON 203 (related requirement for the major)
Biological and Physical Sciences Courses
BIOL 101 
and BIOL 102
or other paired science lecture and laboratory courses
NUTR 100
or BIOL 160 or other science lecture course
Career Preparation
This program is designed to help prepare you for accounting certifications and careers at corporations and nonprofit and government organizations that cover a wide range of industries. For more information about professional licensure in this field visit www.umuc.edu/professional-licensure.
State-Specific Details
This program is designed to help prepare students to sit for the Uniform Certified Public Accountant Exam and/or obtain initial licensure as a Certified Public Accountant in Maryland. To sit for the CPA Exam in Maryland, a candidate is required to have successfully completed 120 credits toward an accounting degree. Many other states, however, require candidates to successfully complete 150 credits prior to sitting for the CPA Exam.
To obtain initial licensure as a CPA in Maryland and most other states, a candidate is required to have successfully completed 150 credits. Maryland has additional requirements to obtain initial licensure as a CPA, not all of which can be fulfilled through education. Learn more about Maryland's requirements for initial licensure. Students seeking licensure in another state are advised to contact the appropriate licensing board in their state.
Learn more about professional licensure and how to contact your state's licensing board.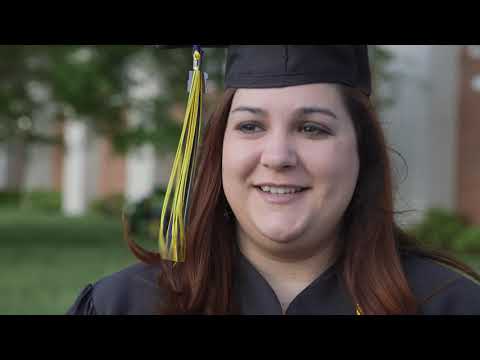 Debra Kindinger gained so much valuable information from her UMGC accounting courses, she created a unique presentation to showcase her knowledge, leading to a new job.
I wanted more than anything to finish [my degree], so as soon as I arrived on base, I went to the education center. The counselor there directed me to UMGC, where he said I could take everything I needed online.
Janna Lowther
Military Spouse
Federal Tax Senior Staff, Crowe Horwath LLP
Accounting Bachelor's Degree
Additional Information
Educational Relationship
An articulation agreement between UMUC's Undergraduate School and Graduate School allows eligible students who complete their undergraduate degree at UMUC with a major in accounting to reduce their total coursework for the Master of Science in Accounting and Financial Management, the Master of Science in Accounting and Information Systems, or the Master of Science in Management with a specialization in Accounting at UMUC by 6 credits (two courses). More information is available in the graduate catalog.